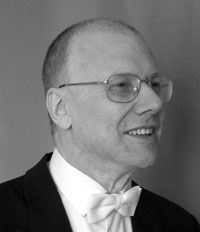 Colin Block
Co-Director of Music & Conductor
Born in Wickham, Hampshire, Colin Block studied horn, piano, composition and conducting at the Royal Academy of Music in London. In 1965 he came to Dublin as a horn player in the RTE National Symphony Orchestra, and became very active as a conductor of various instrumental groups which frequently broadcast on RTE.  For many years he ran his own chamber orchestra called "Serenata", led by Alan Smale, and he has also been guest conductor with the RTE Symphony Orchestra, the RTE Concert Orchestra, NICO, the RTE Singers, the National Chamber Choir, and the Orchestra of St. Cecilia.
He later developed a keen interest in choral conducting and training and has appeared with numerous choirs over the years.  He has as a result gained an enviable reputation as one of Ireland's foremost choral directors.  He has also been involved in musical comedy with the Clontarf, Bray, Greystones, Glencullen and Navan musical societies.
In 1980 he resigned from the RTE Symphony Orchestra for health reasons, and despite a constant and debilitating battle with chronic back pain, is currently Co Musical Director and regular conductor of the Dublin County Choir.  In 2007 he retired from the Culwick Choral Society, and was by far the longest serving Musical Director (21 years) in its long history.
Colin is married to pianist Carole, formerly a bassoonist in the RTE Concert Orchestra: they have two sons, five grandsons and one great-grandson.  For many years he, Carole, and their eldest son Robert ran a recording and photographic studio called The Dream Factory, which, amongst many other things, did commercial album recordings for choirs, demo CD's for vocal soloists, and portrait photography.
Colin spent many happy years in the 1990's as a hang glider pilot, until an accident persuaded him that flying radio-controlled model aeroplanes was a much better idea!
---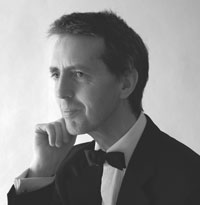 John Dexter
Co-Director of Music, Conductor & Organist
John Dexter was for many years Organist and Master of the Choristers in St Patrick's Cathedral. He conducted John Dexter Harmony (2001–2008), Guinness Choir (1984–1991) and Kodály Choir of Oxford (1973-74). John was Organ Scholar in Jesus College, Oxford, and at St Paul's Cathedral London, studying orchestral conducting with the late Norman Del Mar in the Royal College of Music. John is now Conductor of Goethe Choir, Co-Director of Dublin County Choir, Organist of Whitechurch Church and lectures in harmony, counterpoint and conducting techniques in Trinity College Dublin. He is probably better known as the father of singers, players and conductors in various choirs, orchestras and rock bands in Dublin, Belfast and Co Mayo.
---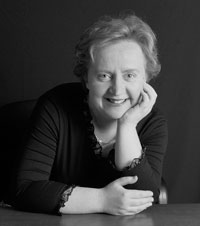 Celine Kelly
Repetiteur & Accompanist
Celine Kelly studied piano with Frank Heneghan at the Dublin College of Music. Following numerous competition successes, and having graduated from Trinity College Dublin with an Honours degree, she spent two years at the Royal College of Music, obtaining a Performer's Diploma. To date, Celine has accompanied many solo artists and choirs in performances in Moscow,  France, Italy, USA, China and throughout Ireland. She is currently on the teaching staff of DIT Conservatory of Music and Drama.