24th April 2010
National Concert Hall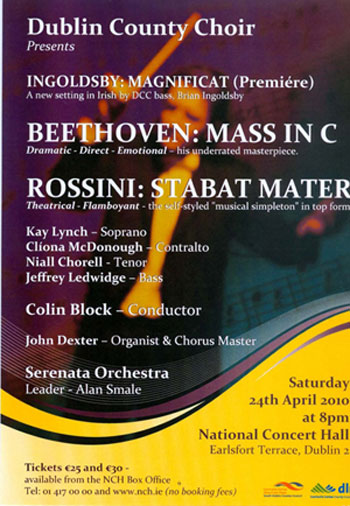 INGOLDSBY: MAGNIFICAT
This is a setting for choir and orchestra of the text in Irish (Mórann m'anam an Tiarna….) of the great Marian canticle. The work lasts about 7 minutes and is in a modern but accessible idiom. The composer, Brian Ingoldsby, sings bass in the choir, which is giving the work its first performance in this concert.
BEETHOVEN: MASS IN C
Beethoven was following in the footsteps of Haydn in this Mass setting. In 1806 he was commissioned to compose it by Haydn's former employer, Prince Esterhazy, for the name-day of his wife; by this time Haydn (who had done this work in several previous years) was now elderly and retired. Though similar in scale and form to Haydn's  settings for that occasion, it is distinctively Beethoven. It includes some glorious passages for the quartet of soloists as well as fine writing for the choir.
ROSSINI: STABAT MATER
This is a setting in ten movements of the famous medieval hymn describing the anguish of Mary as she sees her divine son on the cross. While not on the very grand scale of Dvořák's setting (which the choir performed a few years ago), it is nonetheless a considerable work. The great composer of operas draws upon all his skills in that genre to produce memorable tunes, and shows that he could match the best symphonic composers as well. This is a good opportunity to hear a live performance of a work that doesn't often feature on the Concert Hall stage.
Rehearsal!